Messinia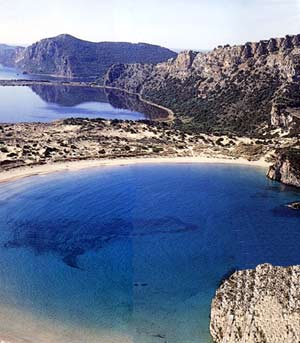 Messenia
or
Messinia
(Μεσσηνία) is a prefecture in the Peloponnese, a region of Greece. Messenia is bounded on the east by
Mount Taygetus
, on the north by the river Neda and the
Arcadian Mountains
, and on the west and south by the Mediterranean Sea, more specifically on the west by the Ionian Sea, and on the south by the
Gulf of Messenia
. The plain is bounded on the north by
Mt. Nomia
(mod.
Tetrasi
, 1,800 m, 5210 ft.) and other mountains, on the west by the mountains of Cyparissia (1,550 m, 4000 ft.) the southern continuation of which forms the peninsula of the Morea, attaining its greatest height in
Mt. Mathia
(mod.
Lykódimo
about 950 m, 3160 ft.), its current tallest point is
Taygetos
located to the east. Off the south coast of this peninsula lie the three
Oenussae islands
and the islet of
Theganussa
(Venetikó). About less than half of the population live within
GR-7
, in places from
Allagi
to south of Kalamata, along with the plain as the Kalamata-Messene metropolitan area, Peloponnese's third largest metropolitan city. Kalamata has an airport 5 km west of Kalamata. A harbor and port named from this city is not far from the downtown, originally connected with train tracks. It is one of the largest waterfronts in the peninsula.